Braces in Manchester (Orthodontics)
Braces in Manchester (Orthodontics)
Teeth straightening with dental braces is the most cost effective, long term solution to improving the smile in many cases. At the Vallance Dental Centre we want you to feel great about your smile. Whether this is the shape, position or colour of your teeth. Developments in brace technology has given us the ability to straighten your teeth quicker and more painlessly than ever before. 
We know how important your smile is to you and so have a variety of options available with our experienced practitioners. 
Crowded Teeth or overcrowding – This is when the teeth aren't quite in the perfect alignment and need a number of movements to bring everything into line.
Overbite  or increased overjet – This is where the top teeth overlap the lower teeth a little too far and have been pushed forward. This is sometimes corrected by moving the bottom and top teeth into line.
Underbite or reversed overjet –  This is where the bottom teeth overlap the top teeth. This is sometimes corrected by moving the bottom and top teeth into line.
Spacing – This is when there are gaps between the teeth that need closing. This is corrected by bringing all the teeth closer together.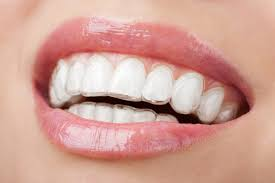 This is an invisible brace system. Clear braces or Aligners are worn on the teeth and aligners are changed every 1-2 weeks. Each aligner is custom made and causes small, incremental movements of your teeth. 
Advantages of Invisalign®
They are more attractive than metal braces and are almost invisible.
More comfortable than fixed braces as they are smoother and less likely to catch your cheeks and tongue.
Can be removed to clean your teeth more easily than with fixed braces.
Tooth movements modelled in 3D so you can see the approximate anticipated result.
Can feel more gentle than fixed braces as the movements are smaller and more frequent.
Disadvantages of Invisalign®
Patients need to be motivated to keep the aligners in place for 22 hours per day.
Aligners need to be removed for eating and teeth must be brushed before putting them back in, this makes snacking difficult.
Clear aligners are not suitable for patients who require more extensive, severe tooth movement.
Attachments (made from small amounts of white filling material) are sometimes required to be placed on the teeth for the duration of the treatment. These attachments make the braces slightly more visible. The attachments are always removed by the end of treatment.
Fixed Metal Braces or Ceramic Braces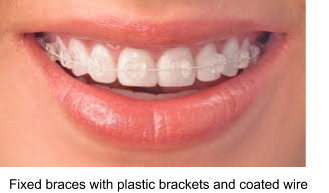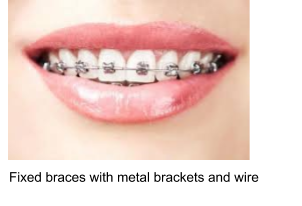 Fixed braces utilise brackets which are bonded to the teeth for the duration of treatment. The brackets can be made from metal, plastic or ceramic depending upon the system used. Wires are then attached to these brackets. 
Advantages of fixed braces
Fixed in place which means you can eat with them in place and don't have to worry about taking them in and out
Can be used in more complex cases when difficult tooth movement is required
Can be a little quicker than clear aligners
Can be cheaper than clear aligners
Disadvantages of fixed braces
Patients don't often like the appearance of fixed braces.
Fixed in place, so more difficult to clean around and food can trap around them while eating
Wires can sometimes be uncomfortable at first and can cause small amounts of ulceration
Can be more uncomfortable than clear braces.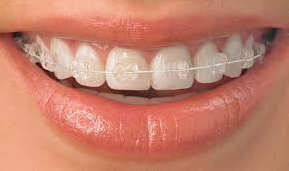 Cfast is a type of fixed brace system that aims to correct alignment issues with the top and bottom front six teeth, and can level and round out the arches. Cfast provides an ideal solution for adults looking to improve the position of the teeth you see when you smile, but want to avoid lengthy treatment times.
Advantages of Cfast Braces
Brackets are fixed, so unlike clear aligners, you can eat and drink with them in place
Quicker treatment times
Less expensive
Clear brackets and white colour of wire makes them very discreet and almost unnoticeable
More gentle pressures than traditional orthodontic methods, therefore minimal risk of side effects and discomfort
Can move teeth to a more favourable position to avoid destructive cosmetic crown or veneer work
A 3D digital image can be created to show you what kind of result you can expect after the straightening procedure
Disadvantages of Cfast Braces
More visible than clear aligners
Will not correct position of back teeth
Not suitable for more extensive, complicated movements of teeth
Can be more difficult to clean than clear aligners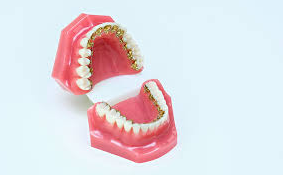 Lingual braces are fixed braces, the main difference being that the brackets and wires are bonded to the inside surfaces of the teeth.
Advantages of Lingual Braces
Invisible from the outside
Fixed in place which means you can eat with them in place and don't have to worry about taking them in and out
Disadvantages of Lingual Braces
Difficult to clean
More expensive as lingual braces are a specialist only option
Not able to correct all misalignments
Can be more uncomfortable initially than traditional braces
This is a very good, commonly asked question. In our experience, both personally and professionally, there is no discomfort for almost all of your treatment. We will be sure to advise you during each stage of your treatment what to expect and how to ease any discomfort. Clear or invisible braces are generally more comfortable than fixed braces, both at adjustment and also during wear. There are two times during your treatment when you may have some discomfort.
Do braces hurt when they are first put on?
The first couple of days commonly we would expect your teeth to ache a little. You may require some pain relief (for example, paracetamol). This tends to be more the case with fixed braces rather than clear aligners. 
If you have fixed braces fitted, you may find the brackets and wires a little sharp against the inside of the mouth. Your brace provider will often provide you with soft wax that you can apply to any sharp bits in order to ease the discomfort against the inner surfaces of the mouth. 
Do braces hurt when they are adjusted?
Depending upon the adjustment, sometimes a thicker wire is applied which progressively increases the force applied that is moving your teeth. If this is the case, you can sometimes expect to feel a little discomfort for a few days again.
Before and After Invisalign
At the Vallance Dental Centre we can provide Invisalign and Cfast Braces. The prices for these treatments are as follows
Invisalign suitability check – FREE
Invisalign Consultation (deducted from plan if you go ahead) -£65
Invisalign – Single arch – From £2500
Invisalign – Dual arch – From £3500
Cfast consultation – £25
Cfast – Single arch – From £1950
Cfast – Dual arch – From £2500
Unfortunately as braces are often deemed cosmetic, the budget and therefore the availability of this treatment is limited. We'd love all our patients to have straight teeth and if NHS treatment is available for you we will be sure to discuss this with you and refer you accordingly. It is important to remember that only fixed metal wire type braces are available through the NHS, invisible and clear braces are not available for any NHS patients. 
According to NHS guidelines, orthodontic treatment treatment is available to patients who meet certain criteria –
Patients aged under 18 who score grade 4 and above on the Index of Orthodontic Treatment Need scale (IOTN)
Patients aged over 18 on a case-by-case basis – in severe cases or health reasons only
To find out more about this please visit the NHS orthodontic information page.
If you are likely to be eligible for NHS orthodontic treatment your dentist will refer you, currently NHS waiting lists are approximately 1.5 to 2 years long. 
Can I Get Private Braces?
If you aren't eligible for NHS treatment or you don't want to wait 1.5- 2 years for NHS orthodontic treatment, private treatment is available at any time without restriction. All treatment types and methods are available to patients on a private basis. Treatment can be started in a matter of weeks if you decided to go ahead after a consultation. 
Meet our Invisalign® dentists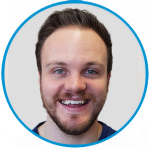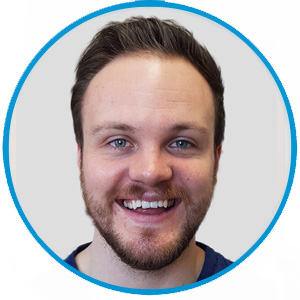 Jonathan Skidmore BChD PGDiP MFDS (2014)
Endodontics & Invisalign® practitioner
Registration number 251907
Dr Skidmore has been practicing as a Dentist since 2014  and has completed a 2 year postgraduate diploma through Simply Endo  and the University of Chester. He is currently carrying out a research project for the award of masters in the subject. Additionally, Jonathan is a member of the royal college of surgeons of Glasgow and has also completed his Invisalign® brace training.
Jonathan is a Dentist with a Special Interest in Endodontics and Invisalign® and  as such is able to offer a high standard of treatment for patients. He takes  referrals at 3 practices across the North West exclusively in the field of Endodontic Treatment and Invisalign®.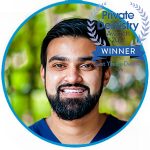 Mr Arfeen Aslam BDS(2008)
Dental Implants, restorative and Invisalign® gold practitioner
Registration number 156196
Dr. Arfeen Aslam graduated from Guy's, King's and St Thomas'  School of Dentistry, King's College London and obtained his membership of the faculty of the Royal College of Surgeons in 2012.
He has completed various postgraduate dental courses including a one year certificate in  advanced aesthetic and restorative dentistry, followed by gaining recognition as a fully certified  provider of a wide range of orthodontic treatments providing both fixed and removal cosmetic braces solutions. Arfeen has completed a year long programme in implant placement. He has a real passion for this field of dentistry.
Arfeen takes real pride and pleasure in his work. Along with a caring, ethical approach he strives to make a difference to each and every person that he treats.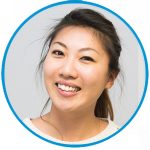 Dr Surbin Gong BDS
GDC 264367
General Dentist and Cfast Dentist
Our practice is situated on the 1st Floor of The Vallance Centre and equipped with new state of the art equipment. Our premises and surgeries are accessible to wheelchairs and there is a disabled toilet.
The Vallance Dental Centre
1st Floor The Vallance Centre
Wadeson Road
Manchester
M13 9UJ
The practice is open during the following hours.
| | |
| --- | --- |
| Monday | 8.30am to 8.00pm |
| Tuesday | 8.30am to 8.00pm |
| Wednesday | 8.30am to 5.30pm |
| Thursday | 8.30am to 8.00pm |
| Friday | 8.30am to 5.30pm |
Contact us for a FREE no obligation consultation with Elite Dentures
Telephone – 0161 273 5998
Email – reception@vallancedentalcentre.com
If you would like to request an email or callback to discuss further please fill in the following form –