Partial Dentures in Manchester
Partial Dentures in Manchester
Removable partial dentures are the quickest, most cost effective way to replace teeth missing in the mouth. Located close to Manchester city centre, the Vallance Dental Centre can provide you with Partial Dentures on an NHS or private basis. This includes flexible partial dentures, acrylic partial dentures and chrome partial dentures. We can make partial dentures for front teeth to help you get your smile back.
What are partial dentures?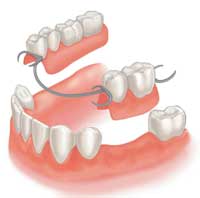 Partial dentures are used to replace missing teeth in the mouth when you still have some of your own teeth left. They can be used to replace just one missing tooth or can be used to replace multiple missing teeth in any part of the mouth.
Dentures vs Implants vs Bridges
The main difference between a denture, implant and bridge is that a denture is a removable appliance to replace missing teeth and an implant or bridge is fixed in place. 
A bridge is where a false porcelain tooth is fixed in place to your natural teeth to replace the missing tooth or teeth. In many cases, the natural tooth will need some reduction to make space for the replacement tooth.
Dental implants are artificial replacements for your tooth roots that are placed within the bone of your jaw to help support an artificial tooth or appliance placed on top. Dental implants require no reduction of the surrounding teeth to replace the missing tooth. 
Why might I need partial Dentures?
If you have missing teeth and are looking for a quick, effective method to replace these missing teeth then a partial denture is the first answer. There are several important reasons why people choose a partial denture –
Cosmetic –  If you have visible gaps where teeth are missing and want to improve the appearance of your smile a partial denture can replace these missing teeth. Missing teeth may also cause your face to appear "sunken" as your cheeks fall in. A partial denture can restore this lost volume back.
Functional– If you struggle to chew your food because you have missing back teeth, a partial denture can replace these missing teeth and restore the bite. If you have missing teeth, it is not uncommon for teeth to move over time.
Cost – A partial denture represents the most cost effective way to replace teeth on a per tooth basis. If you lose other surrounding teeth in the future, these can often be added to the denture as they are lost.
Time – A partial denture can be made in as little as 1 day in simple cases when paying for a rush delivery on a private basis
What types of partial dentures are available?
Acrylic (plastic) Dentures
Acrylic dentures are the most common denture produced
Advantages of Acrylic Dentures
Easy and quick to produce, often meaning they are cheaper for patients
They are easier to add extra teeth to than chrome framework dentures
Easy to repair in case of minor damage
Disadvantages of Acrylic Dentures
Thickest type of framework
Metal clasps to grip the teeth not particularly cosmetic
Years of use can affect the gums by pushing them back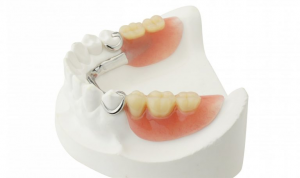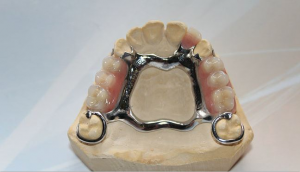 These dentures have a custom made framework cast from a cobalt chrome alloy before the teeth are added. They are often referred to as metal partial dentures or chrome partial dentures. 
Advantages of Chrome Dentures
Lightweight and precision fitting 
Metal framework provides strength with the smallest thickness
Can withstand strong chewing forces
In certain cases a "ring seat" design can be used which doesn't cover all the palate 
Disadvantages of Chrome Dentures
Takes additional time to produce the metal framework (2 weeks)
Metal clasps to grip the teeth not particularly cosmetic
More difficult to add teeth onto the denture
If bent outside the mouth the denture will need a full remake
Usually more expensive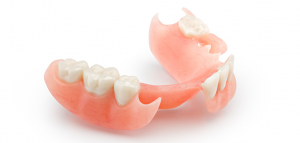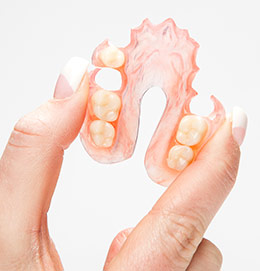 Flexible dentures are made from a flexible nylon material. 
Advantages of Flexible Dentures
They can grip the teeth without using metal clasps
They are easier to add extra teeth to than chrome framework dentures
Flexibility makes insertion easy and they grip the teeth very well (excellent retention)
Less likely to break
Plastic clasps to grip the teeth for better aesthetics
Disadvantages of Flexible Dentures
If they do break they are often unrepairable
The bite strength is reduced slightly due to flexibility
Years of use can affect the gums
Not easily adjusted if ft isn't correct
Dentures made by our expert clinical denture technician, John Wedgwood start from as little as £499 for a single silver standard acrylic partial denture. Prices increase if a flexible or chrome denture option is selected.
We've teamed up with Elite Dentures, who produce the highest quality dentures. And a full list of prices for our partial dentures can be found on our pricing page.
A basic NHS partial denture can be provided at a fixed band 3 price, which is currently £269.30
Elite Dentures patient video
Our practice is situated on the 1st Floor of The Vallance Centre and equipped with new state of the art equipment. Our premises and surgeries are accessible to wheelchairs and there is a disabled toilet.
The Vallance Dental Centre
1st Floor The Vallance Centre
Wadeson Road
Manchester
M13 9UJ
The practice is open during the following hours.
| | |
| --- | --- |
| Monday | 8.30am to 8.00pm |
| Tuesday | 8.30am to 8.00pm |
| Wednesday | 8.30am to 5.30pm |
| Thursday | 8.30am to 8.00pm |
| Friday | 8.30am to 5.30pm |
Contact us for a FREE no obligation consultation with Elite Dentures
Telephone – 0161 273 5998
Email – reception@vallancedentalcentre.com
If you would like to request an email or callback to discuss further please fill in the following form –